The way this poll is being pitched is strange to me: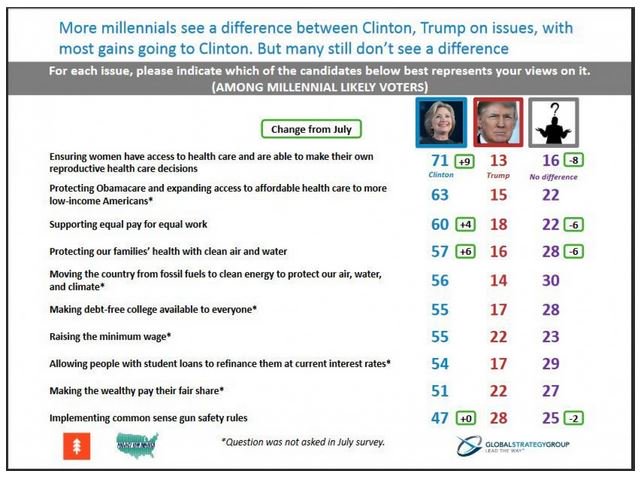 In nearly all of the questions, Clinton has 30-40 point lead over Trump. Isn't that good news? Oh, wait, "many don't see a difference!" Trump gets around 20% on each question, which as I have always asserted, is about what you can expect from any poll--that a decent chunk of people are, um, reality-averse. Anyhow, asking all millennials these questions will certainly turn up people who are pro-Trump because there are both the "deplorables" and the party loyalists in the pool. That 25-30% are uncertain also makes sense because Trump has often taken both sides of an issue, making it hard to discern what his real stance is.
So, letting confirmation bias be my guide, I would say that this poll is outstanding for Clinton. It shows a commanding lead with millennials on these issues. The hard part is not so much getting the undecideds to take a pro-HRC stance, but getting the pro-HRC folks out to vote since young folks are less likely to vote than Trump-friendly old voters.
Oh, and another thing to keep in mind: how people vote when they are younger tends to shape how they vote when they age (from what I remember of previous coverage of this). Which might just mean that the GOP is alienating the next generation of voters not just in 2016 but for the future.
So, consider this a good news survey if you are a Democrat.
For a really interesting survey, see this from a very helpful comment: