One of my friend's has a birthday and I figured out the cheapest present I could get (even after including tariffs) would be a post on any issue he wanted. He picked USMCA or NAFTA 1.3. Why? A) Today is the signing ceremony
B) As he knows I am not an international political economy guy, he wants me to spew on stuff I know not well.
Anyhow, today at the G-20, the leaders of the US, Canada and Mexico are signing the new(?) agreement. More than a few Canadians are miffed as Trump has not removed the steel and aluminum tariffs that exacerbated US's trade relations with these two countries as well as China, EU, and most of the planet.
For me, the question is:
how miffed should we be?
Well, USMCA (which makes me want to
sing
) is
not that radical
as far as I understand it (keep in mind both the caveat that I don't do IPE and it has been a busy fall so I have not followed the details closely). Canada opens its dairy market by a very small slice, has implications for drug prices, causes Canada to match US and Europe on copyright extensions, and does not get US to lift Buy America that means Canadian firms have problems competing for procurement contracts. Oh, and any Canadian deal with China might mean that USMCA could go poof. The rest of NAFTA is intact including key dispute resolution mechanisms. Hence, NAFTA 1.3 or whatever--it only has a new name because Trump has a fragile ego. If NAFTA was mostly good (or not) for Canada before this revision, it is mostly good (or not) now. So, despite having a mercantilist as President of the US, Canada managed to keep open most markets. Woot, eh?
But Canada didn't get the big steel and aluminum tariffs removed, and those hurt. Did they cause
GM to close their factory in Oshawa
? Probably not, but they are part of the
Uncertainty Engine
creating more uncertainty about trade, which means companies react in a variety of ways, and few of them are good.
Which leads to the big question: could Canada have done better? I am pretty sure Canada could have done worse. But better? Two key factors suggest that Trudeau and Freeland did about as well as one could hope for: asymmetry and crazy POTUS.
Basic international relations suggests that the weaker, more dependent actor has to accept what the stronger, less dependent actor demands (insert requisite Thucydides cite). Asymmetric warfare is hard when you live next to the house you might want to burn down. Canada was and is in a lousy bargaining position--China can escalate the trade war because it has both more leverage on the US AND its domestic politics give its leaders far more room to accept short term costs.
As Thomas Schelling taught us before I was born, the best way to bargain in a chicken game is to portray oneself as being far more willing to accept costs and, well, act crazy--burn bridges, toss the steering wheel out the window, etc. While the Chinese can bet on Trump being a bluffer, a paper tiger, Canada had to believe that Trump is pretty crazy when it comes to trade. He is willing to inflict costs on his own supporters as well as other countries as he seems to ignore or not understand the consequences of his actions (or realizes his supporters are cultists and don't mind their soybeans rotting in the field). This makes him a very challenging adversary in a game of chicken.
If one combines asymmetry with a trading partner/adversary like Trump, well, Canada was
fucked
. Sorry, but there it is. What options did Canada have? Suck up and give in? That seemed to be what some folks recommended (hey,
Stephen Harper, you don't seem so tough now
). Or be tougher and not give in? Good luck with that.
The real test of the agreement (if the US Congress ratifies, which is no certainty) is whether Trump then pushes further or if he is satisfied with his branding exercise and moves on to other ways to erase Obama's name and legacy. Since Trump is an Uncertainty Engine, I have no idea, but I would bet on him moving on. He has a short attention span, loves to declare victory, and can feel good about beating Trudeau even if the deal really does not change much (so Trudeau can declare victory, ssshhh).
There is one big upside in all of this: Stephanie Carvin can make a great cake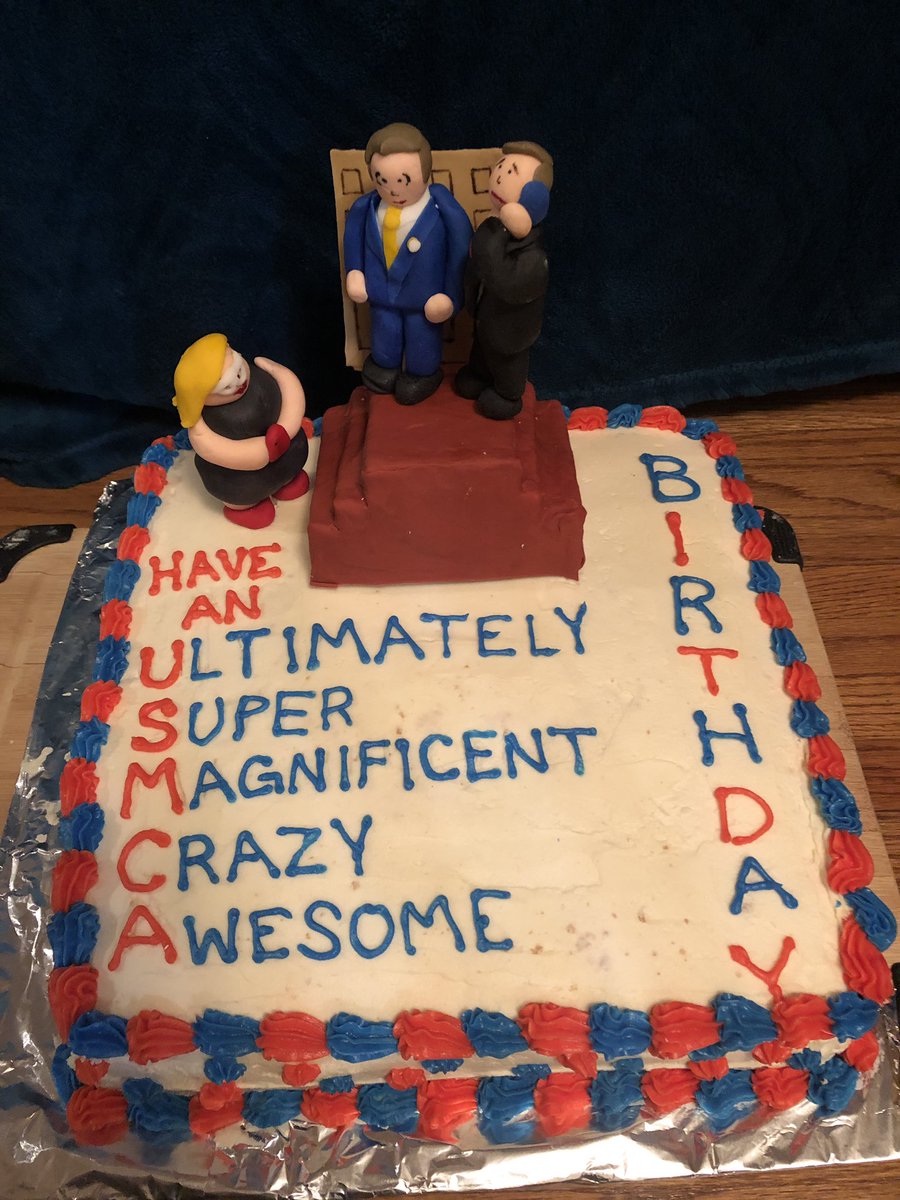 That is Jared Kushner waiting to get into a bargaining session.